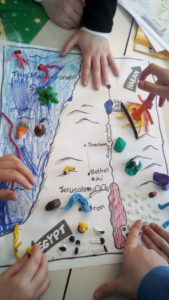 Our main service takes place every Sunday morning at 10.30 am. Tea, coffee and biscuits with friendly fellowship follow the end of the service, at around 12 pm.  We have a relaxed family service on the last Sunday of every month, which lasts around an hour.  Communion takes place at the end of the service on the first Sunday of each month.
Services are led by the church leaders and visiting speakers and we follow a teaching programme to provide continuity and depth of teaching.
You can download the current teaching programme here.

In addition, we have a mid-week fellowship meeting on a Wednesday at 10.30 am, for Bible study and prayer.
We also have occasional evening services at Christmas and Harvest and when we join together with other FIEC churches for worship and Cafe church services (like church in a cafe!) in the hall once a quarter.  These are usually in the late morning or mid-afternoon.  Other events in our church calendar include: coffee mornings, open church events, nativity and carol services at Christmas, church socials (such as skittles and bowling), baptism services, special outreach events for Valentine's Day and the annual carnival, cream teas for Mothering Sunday, monthly bacon bap prayer breakfasts, fellowship lunches, cooked breakfast and family services for Easter . . . . . and more!!  There is always plenty going on at the Church on the Corner, so why not come along and join in?  All are welcome and our congregation reflects all ages and backgrounds.